Hi there! I am sure you all missed my blog posts tremendously! Well, I am sure you are all wondering what the heck I have been up to and the answer is, everything!!
Let me start with Ellie's room. We got our furniture delivered earlier this month and we are so excited about it! Please excuse the grainy pictures but they were taken with my phone.
Her changing table/ dresser
Isn't this clock precious?
Her BEAUTIFUL crib!!









We are really excited about how things are coming along. Her chair should be here right after Christmas and then it is time to decorate those bare walls. I really enjoy doing her room and can't wait until she is here to enjoy it!
Next, I spruced up our living room with a new couch, loveseat, side table, and other decorations. I am still on the quest for the perfect decorative pillows to add to the couch and loveseat but so far, I am happy with how it turned out. Not to mention, the couches are super comfy!
We moved the old old ones upstairs to the playroom. I found some cute wall decals that we are going to put up and we are on the hunt for a bookshelf. This will be my January project.
My parents were just down here visiting for turkey day. We had a lot of fun. My mom and I went shopping ALL DAY Wednesday. She got me and Ellie some really cute stuff. Here is a little bodysuit she got Ellie, I love it!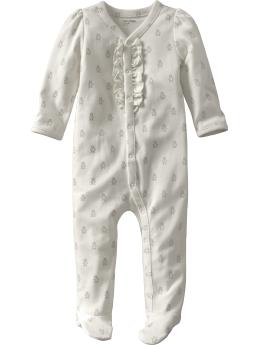 Not sure if you can tell but it has little penguins on it!


It is so hard not to go crazy in baby gap for her, especially with my mom. Overall, it was a great day and I really enjoyed spending time with my mom.
We spent turkey day at the Elrod's house, which was very nice. The turkey got a little burnt but there were so many other delicious things it didn't even matter.
We lounged around most of the weekend. My dad, Brett, and I went to the Predators/Rangers hockey game on Saturday night. We had AWESOME seats and it was a great game. We ate some great food and had some laughs. It was a nice week.
Last week Brett and I got our maternity/family pictures taken by Chris and Adrienne Scott. They are GREAT!! If you need pictures for anything, use them. We go tomorrow to look at them and order and I am so excited. They put a sneak peak for us on their blog so check it out!
Looks like it is time to get studying. Classes are over next week and finals start the week after, eek! I am really looking forward to the end of this semester and going to NY to see everyone!! I will leave you with this picture of my little guy, Miles. He loves to get in the bed when Brett leaves and the other morning he wiggled his way in between my snuggle (pregnancy pillow). He looks so cute and innocent, don't let him fool you!!