This week has been a LONG one! We started it off right by going out to dinner with our friends to the Cajun Steamer (really good cajun food). We finally got to meet our friends, Justin and Tiffany's, baby boy Colton. Seriously how cute is he??
Colton and Audrey (Evan and Jessie's little lady) are the most well behaved babies I have ever seen. We had a great time oh-ing and aww-ing at both of them. Brett and I are SOOO ready for February. It was funny to all of us how much dinner conversation changed since they had babies and I got pregnant. No more wine talk, it's all about breast feeding. And forget about weekend plans, it's more like "how many diapers do you change a day". I LOVE it but now I realize why our non pregnant and child-less friends stopped calling, ha-ha! We were really getting together to celebrate the upcoming launch of the boys' new business venture, fantasynews.com. It is going to be the go-to site for all fantasy sports. Brett, Evan, and Justin have all been working hard on it and we are really praying all the hard work pays off. No need to check the site everyday to see if it went live, I will keep you guys posted!!
I was quite the study bug the first part of the week since I had two pretty tough exams on Wednesday and me being a hermit paid off, I got A's on both!! I never cared about my grades before but since I started back I make sure I do the best I can! That is the difference between going to school when you are ready and going to school just to go.
So the title of this post is "Nesting" because that is exactly what I am doing!! After staying with Jane and Matthew in their beautifully decorated home, I have been driving Brett crazy about what I want done to our house. I would love to just build a house tomorrow and start from scratch but that obviously isn't going to happen. We had a serious conversation and decided that we will start seriously saving so we can build a new house in the next couple of years which makes me really excited!! But until then I need to get this house in tip top shape before Ellie gets here. My parents are coming to town for Thanksgiving. Even though they could care less what my house looks like, I decided today I was going to get the most done in this house that I could before they get here! I few posts back I posted a picture of the couches I found and really wanted. Well, I went a different route. I went to buy the original couches at American Signature today but I couldn't commit. I went across the interstate to Haverty's and as soon as I walked in, fell in love. Forty-five minutes later I walked out the proud owner of this couch and love seat set: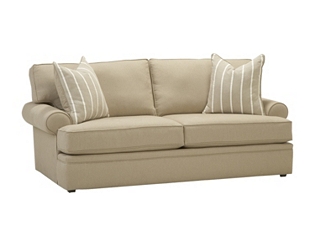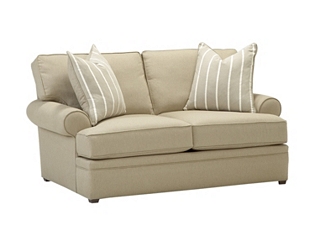 I could barely contain my excitement when I called Brett to inform him that he too, was a proud owner of these couches. I think he was just shocked that I finally bought something and I know he is happy he won't have to listen to me complain about our current couches! I am going to get some smaller, blue, accent pillows to tie the room together since we have blue and green decor. I am very much looking forward to the delivery man to get here on Tuesday!!
Speaking of furniture, Ellie's furniture is getting delivered tomorrow!!! We are going to wake up early and head to USA Baby for their one day sale to order the rocker and ottoman for her nursery then come home to clean the carpets (I rented the "carpet doctor" from Publix) and wait for Pottery Barn Kids to knock on the door! Here is the chair we decided on (we are going to order it in an oatmeal color with the matching ottoman):
We picked it because it was smaller than most of the other chairs and her nursery isn't that big. I don't want the room to feel too cramped so I think this will be perfect. Not to mention it is pretty comfy, I already practiced sleeping in it!
Something really neat started this week, I can see my stomach move when Ellie moves! It used to be I could just feel her but now I can actually see her, crazy!! I also can feel my belly and tell where her head and her tush are (not sure which is which though!). This is honestly the coolest thing ever!! She is almost 1.5 pounds and the length of an ear of corn. I will be 25 weeks Monday and according to my super cute pregnancy calender (thanks Jessie!), she will be the size of a rutabaga (if only I knew what that was!). Overall, she is getting big and so am I! I will leave you with a picture of me I took on Monday at exactly 24 weeks. Hello belly (and booty!)!!!